Submitted by Jennifer Turnquist, Dev10 …
The Tech Talent Gap
Wisconsin has more job vacancies than people to fill them. Wisconsin Manufacturers & Commerce found that 75% of employers reported difficulties in finding employees.  The Bureau of Labor Statistics (BLS) forecasts computer and information technology occupations will increase 11% from 2019 to 2029—much faster than the average for all occupations.  The MKE Tech Hub Coalition was founded to capitalize on the $27.6 billion economic impact from tech industry.
"Long-term, closing the workforce gap will take strong collaboration between corporate America and our education system," says Angelia Brekke, Dev10's Managing Director. "In the short term, creative approaches and investments are required to increase workforce capacity. We need to look at talent pools through a different lens—that of aptitude.  With Dev10, we identify high-aptitude, STEM-degreed U.S. citizens and put them through an immersive three-month Java training program, creating the tech workforce the Milwaukee area needs."
Innovative Talent Solution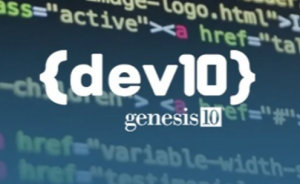 Since launching Dev10, more than 200 people have successfully completed its Software Developer training and are working as Dev10 consultants for clients in financial services, manufacturing, healthcare, and retail. Of these consultants, 54% are gender and ethnically diverse.
With support of The MKE Tech Hub Coalition, Dev10 expanded into the Milwaukee area in 2020.  The partnership with the Tech Hub is rooted in three key areas Dev10 aligns to the Coalition's goals:
Creating job-ready tech talent in the region
Increasing the number of local graduates who remain in the region
Increasing the number of woman and people of color in the tech workforce
"We applaud The MKE Tech Hub Coalition's mission to double tech talent in the region; Dev10 will be a key factor in driving innovative talent solutions—including the challenge to reshape the tech workforce to be more representative of the community," says Tara Wyborny, Director of Dev10's Emerging Talent Programs.
Current technical training tracks include Java and .NET with advanced paths in industry-leading tools such as Salesforce, Pega and Hadoop.   Dev10's initial cohort of 15 professionals graduated in August 2020.  Each began their professional IT career with one of four outstanding companies working in front-end development, data engineering, application development, and cloud engineering.
In just nine months, the Dev10 Program will have produced 55 new technologists to support the region's economic growth and technical innovation.  Thirty-seven percent are female, which is nearly a 50% increase over current industry average.  Seventeen percent are people of color—10% greater than industry average. 
MKE Tech & Dev10 2021
So, what is next? In 2021, with support from the Tech Hub Coalition and the strong community organizations in the region, Dev10 plans to:
Double the number of graduates with a goal of over 100 new IT professionals added in 2021
Create additional training paths for embedded/firmware engineers and FinTech
Drive even greater diversity. MKE Tech Hub and Dev10 are ideating around how to create additional onramps to the Dev10 program.
Be a part of strengthening Milwaukee's technical workforce.  Consider Dev10 for your company's entry-level technology roles.