Submitted by Renee Becker-Blau, Talent Development Associate, MKE Tech Coalition ……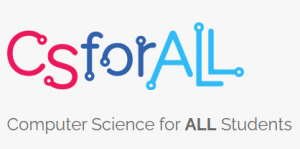 Currently in the State of Wisconsin, schools are required to offer instruction in computer science, but there is a lack of a strategy, funding, and support. The MKE Tech Hub Coalition recognized the challenge school districts face in offering comprehensive computer science education to their students and took action. Working with seven school districts in Southeastern Wisconsin, Elmbrook Schools, Kenosha School of Technology Enriched Curriculum (KTEC), Milwaukee Academy of Science, Milwaukee Public Schools, New Berlin School District , St. Francis School District , & Whitnall School District, the Coalition sponsored the first CSforALL SCRIPT Workshop in the on August 13-14, 2020.   
Each district committed to assembling a team of district, school and teacher leaders from both elementary and secondary school levels to attend the SCRIPT ["S"trategic "C"SforALL "R"esource & "I"mplementation "P"lanning "T"ool] workshop.
The "SCRIPT" supports systems-level change by addressing five key areas:   
Leadership 

 

Teacher Capacity and Development 

 

Curriculum and Materials Selection and Refinement 

 

Partners 

 

Community 

 
This framework guided the teams of district administrators, school leaders, and educators through a series of collaborative visioning, self-assessment and goal-setting exercises to create or expand upon a computer science education implementation plan for their students. These district representatives left the two day, virtual workshop with a strategic plan to build an inclusive culture for computer science within their school districts and a collective commitment to work as a team towards implementation.  "A key message throughout the workshop was that diversity, equity and inclusion in computing and related disciplines requires intentional actions and support structures not typically a part traditional K-12 planning" said Laura Schmidt, Chief Talent Development Officer for the MKE Tech Coalition.   
Key feedback from participants who attended the training highlighted the "well organized and planned" format of the event, noted the resources provided "needed structure to the planning process", appreciated the "dedicated time as a team around this topic", and guided district teams "to clear next steps". Five critical examples of the goals and actions that came out of the workshop included:     
Establish shared vision and culture of support -rethink CS in relation to the vision of a college and/or career ready graduate 

 

Build district/building/teacher leadership capacity 

 

Reinforce the value proposition of CS [via technological literacy] for DEI 

 

Include CS in curriculum renewal process across subject areas (priority standards, authentic alignment) 

 

Include new metrics in school/district KPI (regardless of report card requirements) 

 
Participants in this first Cohort left with internal work to continue to refine their three, six, and nine month goals, access to CSforALL resources and support services, and a commitment from the MKE Tech Hub Coalition to regularly convene the K-12 Computing Alliance to provide coordinated support and communication to this first SCRIPT cohort.   
"We were honored to be able sponsor this opportunity for those districts with a demonstrated commitment to provide an inclusive culture for CS for the benefit of their students.  We are especially thankful for all of the support from CSforALL, our local CSforALL facilitator Tina Boyle-White, and the representatives from the MKE K-12 Computing Alliance who share a passion for this work." said Schmidt.   "We are hopeful that this initial experience will act as a catalyst for other districts to check out all of the amazing resources CSforALL has to offer to support their efforts".
TAKE ACTION:   
Today, more than ever, our Wisconsin students need to build a strong foundation of technical skills so they are ready for the careers and jobs that might not yet even exist in our world today. There are actions you can take right now, in the community to build this talent pipeline and transform the lives of students: