By Aaron Drews, Workforce Development and Operations Associate, MKE Tech Coalition
The Milwaukee Tech Hub Coalition commissioned a customized EMSI report in 2020 to identify opportunities for growth in the Milwaukee region tech workforce. The report confirmed that demand outweighs supply across all major tech occupations examined, including Cloud, Cyber, IT/Business Analysis, Engineering, Software Development, and Software Engineering. The overwhelming majority of job postings within these career paths require a minimum of a bachelor's degree and specialized skill sets/experiences that must be further developed to meet demand. This is a widespread problem across U.S. metros that precludes talent attraction alone as a sustainable avenue for increasing supply. Thus, there is a regional need to re/upskill existing talent and explore non-traditional talent to fill the nearly 31,000 projected open tech roles by 2024.
The Coalition created the Preferred Reskilling Provider Network as a collaborative effort to offer training and mentoring in in-demand skill sets to individuals in SE WI.  Criteria for inclusion includes a commitment to diversity, pathway to employment, ongoing mentorship and supports, ability to scale, etc. Selected members of the network for 2020-21 included:
Dev10/Genesis 10
MARS Returnship
Registered Apprenticeship
i.c.stars|*Milwaukee
New Horizons – Business and IT Academy
Employ MKE – TechHire
Forward Careers – TechHire: WorkIT
Over the past two years, the network has leveraged these partnerships to achieve results:
1126 individuals enrolled in network programs, many in high-demand occupation areas including: IT Service Desk Technician (806), Software Analyst/Developer/Engineer (133), Business/Data Analyst/Engineer (41), Cyber Security Analyst (23), Cloud Computing (16), Engineering (12), and other tech roles (95).
65 percent growth in enrollment: net increase of enrollment from 2020-21 of 276 trainees. All providers have met, if not significantly exceeded, the criteria regarding ability to scale to remain a part of the network.
8 percent of trainees completing their program on average, with 75.4 percent of those placed in full-time roles upon completion.
9 percent increase in completion of training across all providers from 2020-21.
69 percent of trainees coming from demographics historically underrepresented in tech.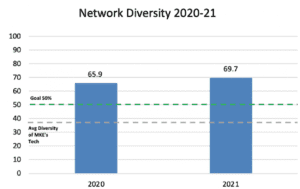 .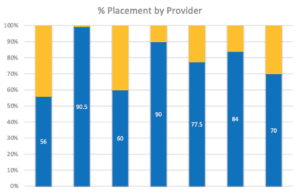 None of this is possible without employer champions who are willing to overcome internal barriers to place non-traditional talent into tech roles. These employers recognize the need for a strong technology workforce and commit to developing and scaling successful practices for re/upskilling non-traditional tech talent at a regional level.
"I am honored to serve as the member lead of the Coalition's Re/Upskilling strategy lane. All of our member employers have embraced our collective mission to inclusively double the tech talent in southeast Wisconsin." said Steve Hannan, CIO Landmark Credit Union. "Employers set the requirements that drive demand and the providers involved in the Coalition's Re/Upskilling Network continue to refine their business plans to meet that need."
Providers meet on a quarterly basis and place a high value the network has brought to their respective programs by convening like-minded organizations to achieve regional goals for the benefit of employers and trainees alike.  Many find value in working together to identify employers' real time occupational skills training needs, build bonds with similar organizations providing employment and training services, and develop a shared understanding of the regional career pathways available across various sectors.  "I wondered how it would work to bring together organizations who all operate in the same space.  They respect each other's unique strengths and have surpassed my expectations in the way they collaborate around shared objectives," said Laura Schmidt, chief talent development officer for the Coalition.  "Especially during the pandemic, the network has facilitated new partnerships that may not otherwise have been possible."
Looking ahead, the network has identified opportunities for future collaboration to help employers more efficiently evaluate options in relation to their needs, the development of a talent community to learn about opportunities as they arise, and a consolidated skills profile of those that have not yet been placed who might benefit from an employer sponsor willing to provide additional training and support.  These next steps will build on the amazing progress the group has made so far in developing a robust and diverse tech talent pipeline across southeastern Wisconsin.