FOR-M attendees were met with a welcoming environment on Monday, Feb. 6 at the Global Water Center. The gathering was an open invite for people to learn about FOR-M and network ahead of the spring cohort. 
With a 200 plus alumni network, FOR-M is an initiative of the MKE Tech Hub Coalition designed for startup enthusiasts and coaches, powered by The Commons and We Pivot.  
As a part of this event, new grant winners were announced by committee selection, including:
Adam Franzen, founder of

AiRE

— cloud-based software focusing on advancing rental and property management via automation and artificial intelligence




 

Mitchelle Lyle, founder of

International Travel Assistance

— assists students and remote workers with living in another region domestically and abroad, including logistics of travel, lodging and government documentation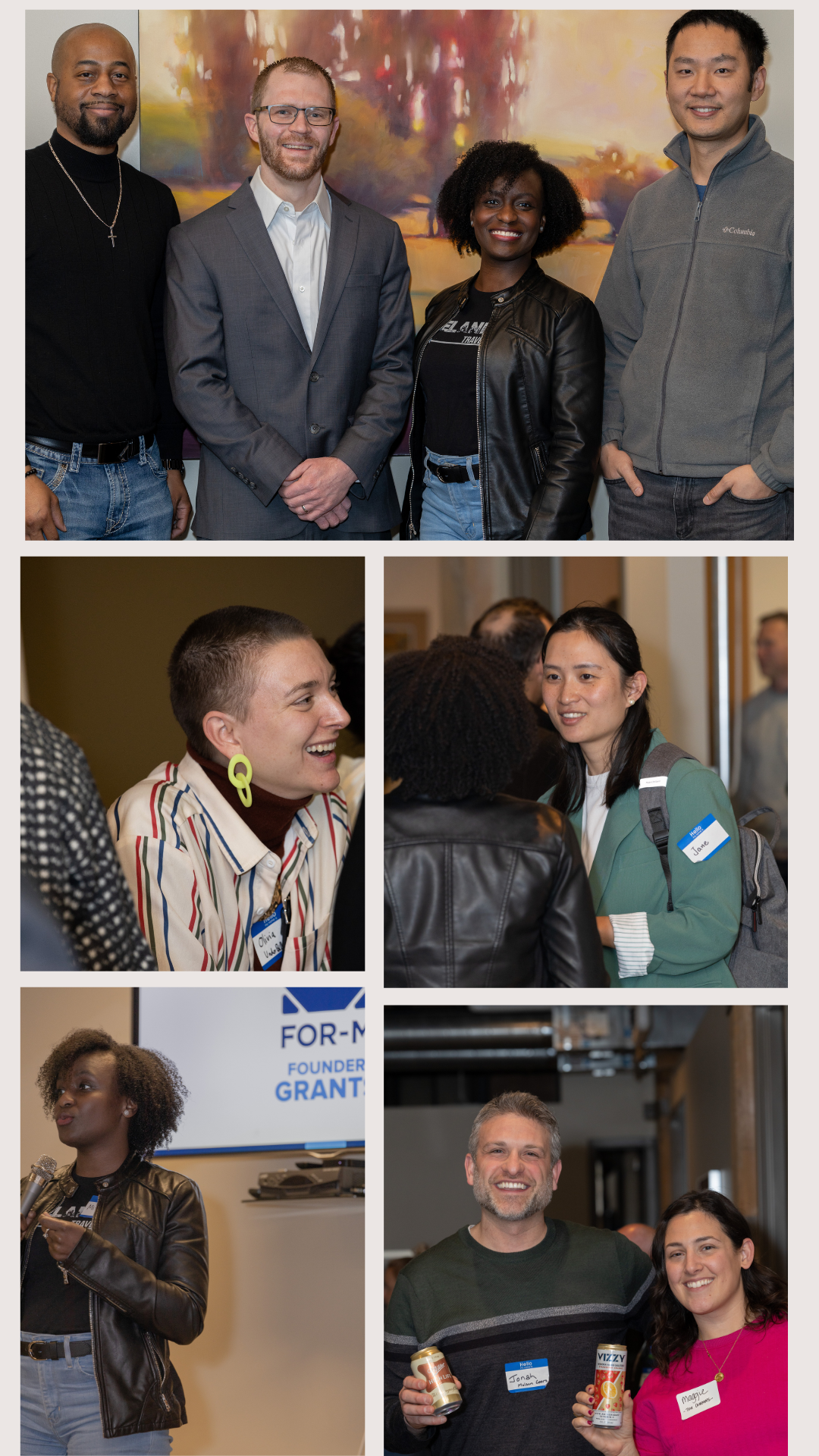 Elzie Flenard, III, founder of

Podcast Town

— a full-service podcast agency dedicated to helping its partners develop their podcast and audience




 

Meng Chen, founder of

PortfolioBay

 

—

 an individual investor platform for accepting online payments, automating rental management and delegating tasks remotely

 
Each founder received $10K in support of their business endeavor (founders are pictured atop of the photo collage: From left to right, Elzie Flenard, III, Adam Franzen, Mitchelle Lyle and Meng Chen). Since the beginning of the program, over $240K in grants have been distributed to founders, in collaboration with the Wisconsin Economic Development Corporation and Bader Foundation. 
When asked about his FOR-M experience, Flenard shared, "It was everything I hoped it would be and more," Flenard said. "I'm so happy that FOR-M exists for founders both past and present."  
In regard to her FOR-M experience, Lyle wrote, "I wouldn't have imagined being prepared to submit an application for this award prior to the FOR-M experience," Lyle said. "To win is an extreme honor and humbles me. It also motivates me to push harder and run faster toward the next milestone … I can't thank you all enough; MKE Tech [Hub], the committee members and my cohort for their support."  
Chen further echoed Flenard and Lyle's sentiments stating, "It's an excellent program for founder development — ideas and product," Chen said. "I would totally recommend [the program] to potential founders."
As for leadership's outlook, Program Director of We Pivot and FOR-M program lead, Maggie Fernandes wrote, "Our founders benefit from the framework and mentorship that FOR-M provides, but what they truly value is the community and connection," Fernandes said.  
The second half of FOR-M's leadership, Program Director and Co-Founder of The Commons, Joe Poeschl shared, "I see FOR-M as 'the welcoming committee' for new founders looking to explore their idea and get plugged [into] Milwaukee's tech startup ecosystem," Poeschl said. "It's a much-needed resource, and we're incredibly proud of the inclusive, accessible and authentic experience that we offer these awesome founders."  
The MKE Tech Hub Coalition aims to fulfill its mission through four key strategies:  
Attracting businesses and talent

 

Building diverse tech talent

 

Scaling the innovation ecosystem

 

Connecting the community

 
FOR-M is one example of how we are working to scale innovation through the startup community in the region. To learn more about our four key strategies, we encourage you to view our newly published Impact Report.